There are situations when, after connecting to a Wi-Fi network on a laptop or computer with Windows 11, you need to find out information about the connection itself, or change some settings. All this can be done either in the properties of the Wi-Fi network itself, to which the computer is currently connected, or in the properties of the "Wireless Network" adapter, through which the connection to wireless networks is made.
In this article:
What information about the current wireless connection (Wi-Fi network) can be viewed in Windows 11: network name (SSID), Wi-Fi network protocol through which the connection is established

(802.11n/ac/ax)

security type, network range

(2.4GHz, 5GHz)

network channel, connection speed, local IPv6 and IPv4 address, DNS servers and physical MAC address.
What Wi-Fi network settings can be changed in Windows 11: enable or disable automatic network connection, set network profile type

(private or public network)

enable or disable metered connection, set the settings for the "Random hardware addresses" function, change the IP and DNS addresses for a specific Wi-Fi network.
Information about the Wi-Fi adapter "Wireless network": adapter manufacturer, description

(name, model)

installed driver version, physical address

(MAC address)

.
If you want to see the password for a Wi-Fi network, then you need this article: how to find out the password for a Wi-Fi network in Windows 11.
How to open the properties of a Wi-Fi network in Windows 11 and see information about it?
The easiest way is after connecting to a Wi-Fi network, open the list with available networks, right-click on the network to which your computer is connected and select "Properties".
Or go to the settings, in the section "Network and Internet" – "Wi-Fi" and there click on the item "Properties" name of your network "".
A window will open in which, in addition to the settings that we will discuss later in the article, information about the current connection to this wireless network will be displayed. Let me explain in detail what you can see there and how you can use it.
SSID. This is the name of the network.
Protocol. The Wi-Fi network protocol through which your computer is connected to a router or access point. Wi-Fi 4 (aka 802.11n), Wi-Fi 5 (802.11ac) and the latest Wi-Fi 6 (802.11ax). More details in the article: Wi-Fi network operation mode b / g / n / ac.
security type. Information about securing your wireless network.
Network range. The range on which a connection to this network is established. 2.4 GHz or 5 GHz.
Network channel. The channel of the Wi-Fi network that your access point distributes and to which you are connected. Read more here: how to find a free Wi-Fi channel and change the channel on the router.
Line speed (reception and transmission). I must say right away that this is not a real connection speed. This is the speed that is possible on this network with the current parameters

(based on the capabilities of the access point and adapter, range, protocol, channel width)

. The actual speed must be measured according to this instruction.
Link-local IPv6 address. The address given by the access point to your computer using the IPv6 protocol.
IPv4 address. The local IPv4 address that the computer received from the router, or that was manually entered in the properties of this network.
DNS servers. Addresses of DNS servers that the router also issued

(DHCP server enabled on it)

or which have been manually entered.
Physical address (MAC). The wireless MAC address of the access point.
This information may be useful for configuring your access point. (router), or to fine-tune the Wi-Fi adapter in Windows 11 in order to increase the speed and performance of the wireless connection. Well, or for other purposes.
Setting up a specific Wi-Fi network in Windows 11
In Windows 11, you can set individual settings for each Wi-Fi network. Now I will show which settings can be changed and how to do it.
You need to open the properties of the Wi-Fi network to which Windows is currently connected, or to which it has connected before. One of the ways I showed at the beginning of this article (first screenshot). You can also do this in the settings, in the "Network and Internet" – "Wi-Fi" section. And in the "Manage known networks" section, you can open the network settings that you have connected to before.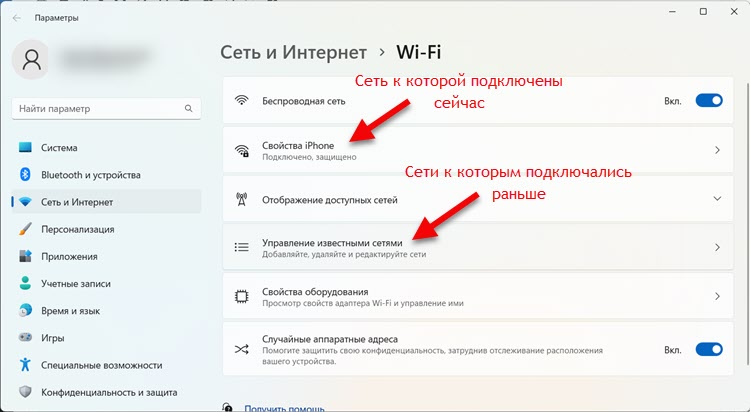 What settings can be changed:
Connect automatically within range. If checked, Windows 11 will automatically try to connect to this network. If you remove it, you can only connect manually.
Network profile type. More about this in a separate article: public or private network in Windows 11. How to change the network profile type?
Limited connection. If, for example, you are connecting to a network with a limited amount of Internet traffic

(Internet distribution from a phone on a tariff with a traffic limit, as in my case)

, or it is expensive, then you can include this item. Then the system itself and applications will consume traffic more economically. When connected to regular networks

(when you do not need to think about traffic consumption)

I do not recommend including this item.
Random hardware addresses. This feature allows you to protect your device from being tracked. Once enabled, the system will generate a MAC address every time you connect to this network and pass it off as the MAC address of your device.
IP assignment. Here you can manually enter the IP address, or set automatic settings. These settings will only apply when connected to this network. Related article: How to manually enter an IP address in Windows 11 for Wi-Fi and Ethernet connections.
DNS server assignment. You can specify your own DNS servers, or receive them automatically from the access point. I have already prepared a detailed article on this topic: how to change DNS servers in Windows 11.
These parameters can be set separately for each wireless network. Sometimes they can come in handy when solving some problems with a wireless connection. For example, when Wi-Fi in Windows 11 without internet connection.
Information about Wi-Fi adapter "Wireless network" in Windows 11
Sometimes you need to know some information about the wireless adapter itself. It can come in handy in different situations, for example, when solving problems with a driver. In the "Hardware properties" section, you can see the manufacturer of your adapter, its name and model, and the version of the currently installed driver. The physical MAC address of the wireless adapter will also be listed there.
This information is located in the Windows 11 settings, in the "Network and Internet" – "Wi-Fi" – "Hardware Properties" section.
It looks like this:
And if you are currently connected to a Wi-Fi network, then there will be additional information about the current connection. I wrote about this at the beginning of the article. Please note that this page also has IP and DNS settings. If you change them, they will apply to all networks to which you connect through this adapter.