To connect your wireless headphones to your phone, laptop, or other device, you must first enable pairing mode on your headphones. It's the discovery mode. Simply put, you need to activate Bluetooth so that the device can detect the headphones and pair. On different headphones, depending on the format, manufacturer, model, this mode is activated in different ways. I'll show you how to do this using regular wireless Bluetooth headphones and TWS as an example.
To activate the pairing mode on conventional headphones, you need to hold down a separate function button, or the power button, for a few seconds. On separate TWS earbuds, Bluetooth is turned on automatically when the earbuds are removed from the charging case, or using the buttons on the earbuds or the case itself. It depends on the headphone model. In the article, we will consider in detail the different options using the example of different headphones.
Detailed instructions that you may find useful:
Activating pairing mode on TWS headphones
A few important points:
Activating pairing mode and resetting the headphones are not the same thing. If you need to reset, then see this guide: how to reset and sync wireless headphones with each other.
When the earphone is in pairing mode

(other devices can detect them)

, then on almost all models, the indicator flashes on one or two headphones, or on the case. And after connection, the indicators either go out or just burn. Usually this is a white, blue, or green indicator. Sometimes red and blue.
If Bluetooth is not enabled on your headphones, your phone, computer, or other device will not be able to detect them.
1 way
On most inexpensive TWS headphones, Bluetooth is activated immediately after we take the headphones out of the case, or open the case. You can see it in the indicators.
When the earbuds lose contact with the case, they automatically turn on and immediately go into detection mode. But on the condition that they have not been connected before to some device that is nearby and Bluetooth is enabled on it. In this case, they will immediately connect to this device automatically and will not be available for discovery by other devices.
2 way
Using the buttons on the headphones or case. Buttons can be touch or mechanical. The most common combinations that work are:
Hold down the buttons on the headphones for 3-5 seconds. Simultaneously. But sometimes this combination just turns off the headphones. They turn on the same way.
Make 3 or 5 clicks on the function buttons on the headphones. Simultaneously on the left and right earpiece.
Press and hold the button on the charging case for 3-5 seconds. Headphones at this moment should be in the case.
This method, for example, is used on AirPods.
3 way
I noticed that very often the problem with connecting headphones to some device does not occur when we first connect, but when we want to connect them to another device. I even wrote about this in a separate article: how to connect headphones to a new or different phone, iPhone, laptop.
The fact is that the earpiece itself is connected to the device to which you have already connected them and because of this they are not detected by other devices. In this case, you just need to either turn off or completely remove the headphones on the old device.
This can be done in the Bluetooth settings of your phone or computer. When the headphones are not connected to any device, they automatically activate Bluetooth and become available for connection to other devices.
How to turn on Bluetooth on regular headphones?
In conventional Bluetooth headphones, the left and right earpieces are connected to each other. You can see how they look in the photo below. Their principle of operation is slightly different from separate ones (TWS). But at the same time, these headphones just as soon go into connection mode after being turned on. And when they are not paired with any device.
These headphones should always have a button with which you can turn on pairing mode. Most often this is a separate button. Not infrequently, there is a Bluetooth icon on it, or near it, or Pairing is written. Sometimes the power button can be used to activate Bluetooth.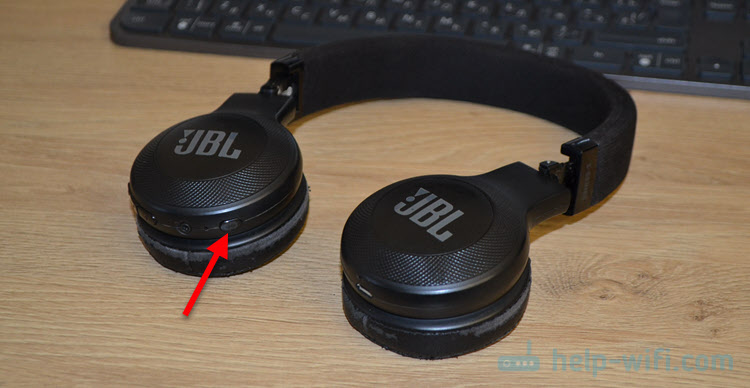 The button must be pressed and held for 3-5 seconds. This is how it works on my JBL headphones. When they are available for detection, the blue indicator flashes.
On headphones from Sony, for example, you need to hold down the power button. Then they go into connection mode.
If you have headphones from another manufacturer and cannot connect, you can specify the model in the comment and tell a little about the problem. I think I can give you some advice.
You can also see these articles:
In them I collected a lot of useful information on this problem.