Since I myself use a wireless Bluetooth mouse and keyboard on a laptop with Windows 11, I decided to write a small instruction on connecting these two devices to a computer or laptop with this operating system. We are talking about mice and keyboards that connect via Bluetooth. This is not the most popular connection method, many more similar devices are connected via a USB adapter. (radio channel). I will also tell you about them. We also look at solutions to the most common problems that are commonly encountered during the connection process.
Before proceeding to the instructions, it is important to understand what are wireless mice and keyboards and how can they connect to laptops and PCs. There are two main types (connection method):
via USB adapter. Do not confuse with Bluetooth. This is such a small USB receiver that is connected to the USB port of the system unit or laptop and a mouse and / or keyboard is connected through it. This connection operates on a radio frequency in the 2.4 GHz or 5 GHz band.
Via bluetooth. In this case, the Bluetooth module is used for connection. If it is built into your laptop

(almost always)

or on the motherboard

(rarely)

, then no additional devices are needed. If there is no built-in Bluetooth, then you will need an external USB Bluetooth adapter. Many Bluetooth-enabled mice and keyboards can also be connected via a USB adapter.

(radio communication)

. It comes with a set. For example, Logitech MX Master 2, 3 mouse. Logitech MX Keys keyboard. Comes with Logitech Unifying Receiver.
Everything is simple here: those mice and keyboards that do not support Bluetooth and work only through an adapter are cheaper. Bluetooth-enabled models are more expensive. But their plus is that you do not need to occupy the laptop's USB port with an adapter. They can also be connected to tablets, phones and other Bluetooth-enabled devices. And use one mouse, for example, on three devices (quickly switch between them). This feature is not available on all models.
We connect a mouse or keyboard through an adapter to a computer with Windows 11
Everything is as simple as possible here. We take the USB receiver that came with the mouse or keyboard and insert it into the USB port of a computer or laptop. Windows 11 should respond to the connection of the adapter, emit a beep.

Then just turn on the mouse or keyboard and it will immediately start working.

You don't need to configure anything additionally. You can optionally install the program from the manufacturer (if available for your device). These programs allow you to configure different functions, assign your actions to function buttons, etc. Also, using a proprietary program, you can configure the operation of the mouse and keyboard through one adapter (Logitech definitely works). If you have both devices from the same manufacturer, of course.
This connection, via an adapter, is very easy to set up and works stably. To be honest, I somehow didn't come across and didn't particularly see cases where the USB receiver was not detected, the mouse / keyboard was not connected to the adapter, etc. The only thing is, if you turned on the device and the indicator does not work, then most likely you need to insert batteries, pull out the film between the contacts (near the battery)or charge the battery (it depends on your model).
How to connect a mouse or keyboard via Bluetooth to Windows 11?
To connect a Bluetooth mouse or Bluetooth keyboard to a desktop computer or laptop, we need:
Bluetooth enabled mouse and/or keyboard.
Laptop or PC with Bluetooth support and Windows 11 installed. Laptops have Bluetooth built-in. You just need to have a working driver installed. In the case of conventional computers, Bluetooth is sometimes built into the motherboard. If this is not the case for you

(see motherboard specifications)

you will need a Bluetooth adapter.
Instruction:
Click on the wireless network icon next to the watch, then right-click on the Bluetooth button and select "Go to Settings".
If you do not have a Bluetooth button there, then most likely it is either not physically present on your computer.

(module itself)

, or the driver is not installed, disabled in the device manager, adapter error. See the article Bluetooth does not work in Windows 11 on a laptop or computer.
In Windows 11 settings, turn on Bluetooth if it is disabled and click on the "Add device" button.

Select "Bluetooth". Device search will start.

Turn on your mouse or keyboard. You may need to charge it before that, or insert batteries.
If the indicator immediately begins to actively blink, then most likely nothing else needs to be done, and the computer will see it. If the indicator does not blink, or Windows 11 does not see the mouse or keyboard, then you need to activate the connection mode. As a rule, there is a separate button

(possibly with a Bluetooth icon)

which you need to press and hold for 3-5 seconds.
You can look at the instructions specifically for your device.
When our device appears in the list available for connection, just click on it.
After successful connection, the device will start working immediately. Additionally, you do not need to somehow configure the Bluetooth mouse and keyboard in Windows 11. More precisely, not necessarily.
The connected device will appear in the device list. There, if necessary, it can be removed. You can also check the charge level.

(may not be displayed, or displayed incorrectly)

.

After turning off / on the power of the mouse or keyboard, it will connect to the laptop / PC automatically if Bluetooth is enabled on it.
If the manufacturer of your input device has an application and your model supports it, you can download it from the official website and install it. Logitech, for example, has the Logitech Options app.
In it, you can connect and control devices, view the charge level, change the cursor speed, reset the settings, change button functions, and configure other options. It all depends on the model of your device. It is not necessary to install these applications.
Setting
If you need to somehow further configure the Bluetooth mouse, then in Windows 11 these settings are in the settings, in the "Bluetooth and devices" – "Mouse" section.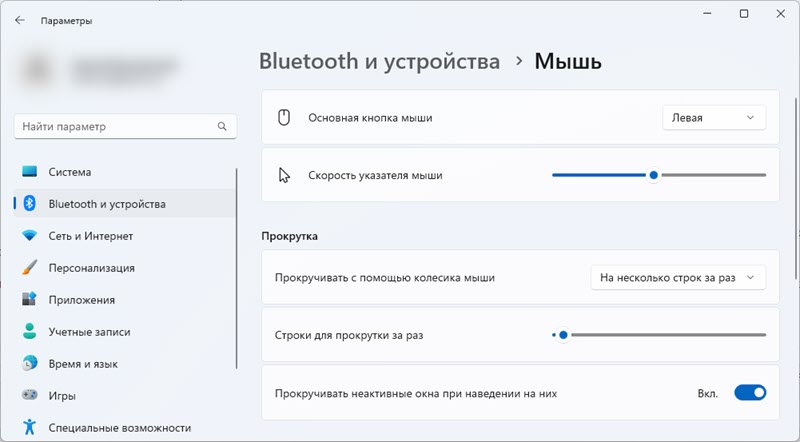 There are settings for the primary key, pointer speed, scrolling, etc. But in most cases, this is all not necessary. Connected and working.
Possible connection problems
According to my observations, the problems are mainly with the Bluetooth connection. We will now look at some of them. And if you don't have Bluetooth on your PC / laptop at all, then see the articles I gave links to above. It describes in detail what needs to be done in this situation.
Windows 11 does not see Bluetooth mouse/keyboard
If your computer does not find the device, try this:
Make sure the mouse/keyboard is turned on and the light on it is blinking. Activate the connection mode with a button, which usually needs to be pressed and held for 3-5 seconds.
Turn on Bluetooth on your phone and see if it finds the device.
Try connecting another device to your laptop, such as Bluetooth headphones.
Make sure the mouse/keyboard is not connected to another device at this time.
Cursor slows down and freezes when connecting a mouse via Bluetooth to Windows 11
I had this on an old mouse and a previous version of Windows. Haven't noticed this yet on Windows 11. But if your cursor does not move as usual, twitches, lags, or freezes, then try applying these solutions.
In the properties of the Bluetooth adapter in the device manager

(you can open it by right-clicking on the start menu)

On the Power Management tab, uncheck the box next to "Allow the computer to turn off this device to save power."

Update, roll back, or replace the Bluetooth adapter driver. Very often the reason is in the driver. If updating and rolling back does not help, try replacing. Right click on the adapter

(in device manager)

select "Update driver", then "Find drivers on this computer" – "Select a driver from the list of available drivers on the computer". Select any driver from the list and install.
Sometimes it helps to install a proprietary application for configuration and control from the manufacturer of a wireless mouse or keyboard.
I will try to supplement this article and talk about new problems, errors and solutions. I would be grateful if you share your experience in the comments. You can also post your questions there.