If your laptop or PC uses an Intel Wi-Fi 6 AX201 160 MHz adapter to connect to Wi-Fi and it stops working, some error appears, there is no driver, or you just need to figure out how to configure it, you have come to the right place. This article is entirely devoted to configuring and troubleshooting this fairly popular Wi-Fi adapter from Intel.
I have already responded many times to comments on other articles on this site, in which they wrote that the Intel Wi-Fi 6 AX201 160 MHz adapter did not work, an error appeared in the properties (most often this is error code 10)or some problem with the driver (Windows cannot install the correct driver). Such problems are mainly observed in Windows 11 and Windows 10. In Windows 7 and older versions, this adapter most likely will not work at all, since the Intel website only has drivers for the eleventh and tenth versions. And also for Windows 8.1. Yes, and putting the seven on a computer with this adapter is not very reasonable (for the reason that other hardware in this computer is most likely also new).
What problems can be with the Intel Wi-Fi adapter?
I will check and show all solutions using the example of Windows 11. Where necessary, I will give instructions for Windows 10. If you have a different adapter from Intel, it's okay. These solutions will also work for Intel Wireless-AC, Intel Dual Band Wireless, Killer Wireless-AX, etc. My laptop, for example, has a Killer(R) Wireless-AX 1650s Wireless Network Adapter installed.
Intel Wi-Fi 6 AX201 has stopped working: what to do?
To begin with, I recommend performing a normal reboot of the computer. Then turn off with the power button. Next, you need to check the adapter in the device manager. You can turn it on and off there. (do a reinstall), or try to rollback/replace the driver. We will also download the driver from the Intel website and install it. It is also very important to install all available Windows updates and drivers. Update the BIOS of the laptop or motherboard.
Normal and forced reboot
To get started, simply restart your laptop or computer. It is important to perform a reboot, and not turn off and on. If this does not help, you can perform a forced reboot. I usually recommend this method in cases where the Wi-Fi adapter has disappeared from the device manager altogether. (does not appear on the Network Adapters tab). He used to be there and work. It is not difficult to make it:
Save all documents

(in open programs)

and close all windows.
Hold down the power button on the laptop and keep it pressed until the laptop turns off.
Wait a few minutes and turn on the laptop.
Checking and reinstalling the adapter
Open device manager. In Windows 11, it can be opened by right-clicking on the Start menu, through the search, or by pressing the keyboard shortcut Win+R and running the command devmgmt.msc. The last two methods are also suitable for Windows 10.
In device manager open tab Network adapters. It should show the Intel adapter. It may be called differently. For example, Intel Wi-Fi 6 AX201 160 MHz, or Killer(R) Wireless-AX 1650s Wireless Network Adapter.
Pay attention to the icon next to the adapter. If there is an arrow icon there, then most likely it is turned off and you need to turn it on. Right click on it and select Turn on the device.
If your adapter is already enabled, but next to it, for example, a yellow icon with an exclamation mark is displayed, and in the properties there is an error "code 10" or another, then try deleting it. Right click and select Delete device.
Confirm deletion. After that you can click on the button Update hardware configuration.
But I recommend just restarting your computer. The adapter will be installed automatically. And maybe the bug will be fixed.
If you do not find the Wi-Fi adapter in Device Manager, then use other solutions (forced reboot (which I wrote about above), updating BIOS, installing Windows updates).
Rollback and replacement of the Intel Wi-Fi 6 AX201 160 MHz adapter driver
Open the properties of the Intel adapter in Device Manager and select the tab Driver. There click on the button rollback. Choose one of the options and click Yes.
Restart your computer.
If the problem persists after rolling back the driver, try replacing the driver. In the same window

(which is in the screenshot above)

click on the button Update Driver.

Next choose Find a driver on this computer. In the next window, click on Select a driver from the list of available drivers on the computer.
Select one of the drivers (there may be more than one in the list) and install it.
Restart your computer. This way you can check several different drivers.
More detailed instructions:
Downloading and installing the driver from the Intel website
The Intel site has drivers for all wireless adapters from this manufacturer. We just need to download the driver and install it.
For example, here is a link to the page with drivers for the Intel Wi-Fi 6 AX201 adapter and other models:
Watch carefully. The driver must be for your Windows installation. Also look at the bitness of the system (64-bit, 32-bit). For example, I have Windows 11 64-bit. There on the page there is information for which adapter models this driver is suitable.
After downloading the .exe file, just run it and follow the instructions.
BIOS update
I have already seen cases many times when the wireless adapter simply disappeared on laptops. It is not uncommon for this to happen after installing or updating Windows. This happens with adapters from different manufacturers, including adapters from Intel. And if this is not a hardware problem with the adapter, then in most cases the reason is in the BIOS.
You need to go to the website of the manufacturer of the laptop or motherboard (if you have a PC and an Intel adapter built into the motherboard), find the download page for your model and download the BIOS update there. Then install it.
Many manufacturers have programs that automatically scan the system, find drivers that need to be updated, and update themselves. Including BIOS.
Installing Windows updates and optional driver updates
Install system updates. This can be done in the settings, in the "Windows Update" section.
Also, the standard Windows update tool sometimes allows you to install driver updates. Including for wireless adapters. There may be an update available for Intel Wi-Fi 6 AX201 160 MHz that will resolve the issue.
In the settings, open the tab Windows Update and click on Extra options.

Next, select an item Optional Updates.
Open the list of available updates, select all updates there

(or the ones you want to install)

and press Download and install.
I have updates available for Intel Corporation – SoftwareComponent. This can be updated for Wi-Fi adapter.
If you have Windows 10, then you need to open "Windows Update" and in the "Optional fix available" section, click on "View all optional updates". There, select the necessary drivers and install them.
Troubleshooter
Try running the troubleshooter. Perhaps it will find some kind of malfunction with the Wi-Fi module. And if it doesn't fix it, then at least tell what the problem is.
Open Settings and go to section System – Troubleshooting – Other troubleshooting tools. Click on the button launch against Internet connections.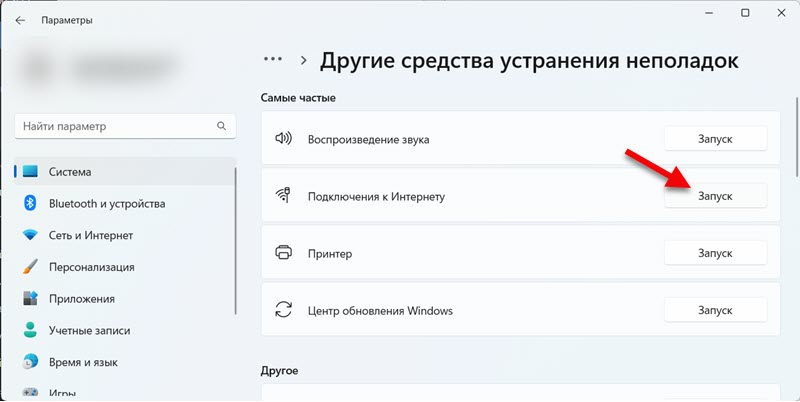 Then you just need to follow the instructions. You can write about the results in the comments. Or maybe Windows itself will fix the problem.
In Windows 10, open Settings, then go to Update & Security – Troubleshoot.
Configuring Intel Wi-Fi 6 AX201 160 MHz and other Intel adapters
In Device Manager, by opening the properties of the adapter on the tab Additionally you can access the settings of the wireless adapter. I do not recommend changing these settings unnecessarily. And if you change, then remember, and even better, take pictures of those parameters and values ​​​​that were originally.
For example, problems with unstable Wi-Fi connection can sometimes be solved by setting the channel width to 20 MHz or 40 MHz in the properties "Channel width for 2.4 GHz" or "Channel width for 5 GHz" (802.11n channel width for band 2.4GHz). Depending on the range in which the network operates.
Let me remind you that these settings do not need to be changed. Only if the Wi-Fi connection is unstable. And if that doesn't help, restore the factory settings.
You can also configure roaming aggressiveness, preferred frequency, wireless mode, MIMO power saving mode, etc. You may have these settings in English. As I understand it, it depends on the driver.
Energy saving setting
I recommend disabling the Intel Wi-Fi 6 AX201 160 MHz wireless module (or other model) to save electricity. Because of this, there are often various problems in the operation of Wi-Fi.
This can be done in the adapter properties on the tab Power Management. In some cases, like mine, this tab is missing for some reason. It looks like this:
You need to uncheck the box next to Allow this device to turn off to save power and press Ok.
More about this in a separate article: configuring the power supply of the wireless network adapter.