If you are facing DNS server not responding error in Windows 11 or other DNS server related issues on your PC or laptop, then this article will help you fix them. I will talk about possible problems, why they occur and share working solutions that will help you remove all possible errors.
In the article the DNS server does not respond in Windows 10, 8, 7, I told you how to deal with this problem in previous versions of Windows. The article got a lot of views and comments. In Windows 11, a DNS server error is also a very common occurrence, so I decided to collect in a separate article all the effective solutions that have already been tested many times by me and site visitors. And which work fine in Windows 11.
What does a DNS server error look like in Windows 11?
Internet connection status (icon) shows that everything is connected, but the Internet does not work. Websites do not open in browsers, the site cannot be accessed, and the following errors appear:
"Could not find the server's IP address", "DNS_PROBE_FINISHED_BAD_CONFIG", "Unable to find the site's DNS address", "DNS_PROBE_STARTED". Depending on the browser or program, errors may be different.
When diagnosing internet connection problems in Windows 11, you will get an error "DNS server not responding" or "Windows cannot contact the device or resource (primary DNS server)".
It could also be an error "Computer settings are correct, but the device or resource (DNS server) is not responding".
What does this mean and why is there a problem with DNS?
The DNS server performs the function of resolving the site addresses familiar to us (domains) to IP addresses. When we open a link in a browser, the DNS server converts it into an IP address. And then the site is searched and loaded.
If the DNS server is not working, then the browser or some program simply cannot find the desired site. (server) and download it. Therefore, in Windows 11, we see errors related to the fact that the DNS address of the site cannot be found, or the IP address of the server could not be found.
By default, the ISP's DNS servers are used. They can be changed, register servers manually. Errors can be due to these servers not working properly when some kind of failure occurs and they are unavailable or not responding. Or, for example, when some program (antivirus, VPN) in Windows 11 changes these network settings.
DNS server in Windows 11 is not responding, unavailable, or not found: how to fix and what to do?
To fix a DNS server error in Windows 11, you need to restart the router and computer, check the DNS server settings, register third-party servers manually, reset the network and DNS cache, and also eliminate the cause in antivirus and other programs.
We will start with the simplest and most effective solutions. Which, in my experience, helps the most. This will help you quickly fix this problem and not waste time following complex recommendations.
Restarting the computer and router
Perhaps you have already done this. If not, do it. Restart your PC or laptop. And also restart the router through which you connect to the Internet. If you have access to it. Just unplug it (or the power button on the case) for a minute and turn it back on. If you have a direct connection via cable, then only restart the computer.
Checking and changing the DNS server
This solution helps the most. You need to check the DNS settings in the properties of the connection through which the computer is connected to the Internet. If some server is registered there, then you need to set automatic settings (DHCP) and check the work. If this does not help and the DNS server is still not responding, then manually register public DNS servers. I recommend using Google's DNS servers. They are fast and reliable. I wrote about them in a separate article: 8.8.8.8 – what is the address? How to replace DNS with Google Public DNS.
Where to check/change these settings depends on how you connect to the Internet. There is an option to change them for one specific Wi-Fi network, for all wireless Wi-Fi connections and for cable (Ethernet) connections.
For one specific Wi-Fi network
Click on the connection icon in the tray, then on the Wi-Fi button

(on the arrow)

and on the icon (i) near the network you are connected to.

Opposite point "DNS Server Assignment" click on the button "Change".

If you already have manual settings selected there and some addresses are registered, then set "Automatically", save the settings and restart the computer. This should help.
If there were originally automatic settings and there was a DNS server error, then select "Manually"turn on IPv4 and in the field "Preferred DNS Server" write 8.8.8.8and in the field "Additional DNS Server" indicate 8.8.4.4.

Save the settings and check if the Internet is working.
For all wireless and wired connections
Open Options. You can, for example, right-click on the Start menu and select "Options".
Next go to the section "Network and Internet" and choose "Advanced network settings".

Now the important point: if you have a problem with the DNS server in Windows 11 when connected via cable, then click on ethernet. If via Wi-Fi, select Wireless network. Then click on the item "View additional properties".

Click on the button "Change" opposite "DNS Server Assignment". If addresses are already registered there

(selected "Manual")

then we put "Automatically", save and check whether there is access to the Internet. If the item was originally selected there "Automatic (DHCP)"then choose "Manually" and register DNS servers for IPv4: 8.8.8.8 And 8.8.4.4.

Save your settings. After that, try to open some website in the browser. I think everything should work.
I tried to give the most simple and understandable instructions. But if something didn't work out, see a separate article: how to change DNS servers in Windows 11. There I also showed how to register DNS servers for the IPv6 protocol. You can try if it didn't work with IPv4.
Flushing the DNS Cache and Refreshing the Connection
There are commands that can quickly clear the DNS cache and update network settings. Sometimes this helps fix the DNS server.
To launch the command line, open Start and in the search, start typing "command line". Then right click on it and select "Run as Administrator".

Copy and run these three commands in turn:

ipconfig /flushdns
ipconfig /release
ipconfig /renew

Copy the command, paste it into the command line, press "Enter".


After completing all the commands, restart your computer.
Disable or remove antivirus and firewall
In the comments to the article with solutions to the same error in previous versions of Windows, he often wrote in the comments that the reason was in the antivirus. Avast antivirus was reported especially often there. (Avast VPN). Indeed, the antivirus can change the network settings of the system, which is why Windows 11 cannot contact the DNS server.
Try to completely stop the antivirus and its built-in firewall for a while. If this does not help, try to completely remove the antivirus. Especially if you have Avast.
I also recommend disabling the built-in Microsoft Defender firewall in Windows 11 for testing.
Reset network settings
A complete reset of network settings is another great solution that helps you deal with various errors when connecting to the Internet. Including with errors that are associated with DNS servers.
You can start the reset in the Settings, in the section "Network and Internet" – "Advanced network settings" – "Network Reset".
Before that, I recommend that you look at the detailed instructions: reset network settings in Windows 11.
Checking and Restarting the DNS Service
Windows 11 has a separate service that is responsible for DNS operation. You need to check if it is running. And if it is running, then stop it and start it again.
Press the keyboard shortcut Win+Renter the command services.msc and press Ok.
The "Services" window will open where we need to find the service DNS clientopen its properties, and make sure it works.

If there is such an opportunity

(the Stop and Start buttons will be active)

then stop it and start it.
Checking proxy settings
You need to check and make sure that Windows 11 is not using a proxy server.
These settings can be found in Options, under "Network and Internet" – "Proxy Server".
I wrote more about these settings in the article how to disable a proxy server in Windows.
Internet Connection Troubleshooter in Windows 11
If none of the above solutions helped to get rid of the error and the DNS server in Windows 11 is not responding, then try running the troubleshooter.
Open Settings and go to section "System" – "Troubleshooting" – "Other Troubleshooting Tools" and run it for "Internet Connections".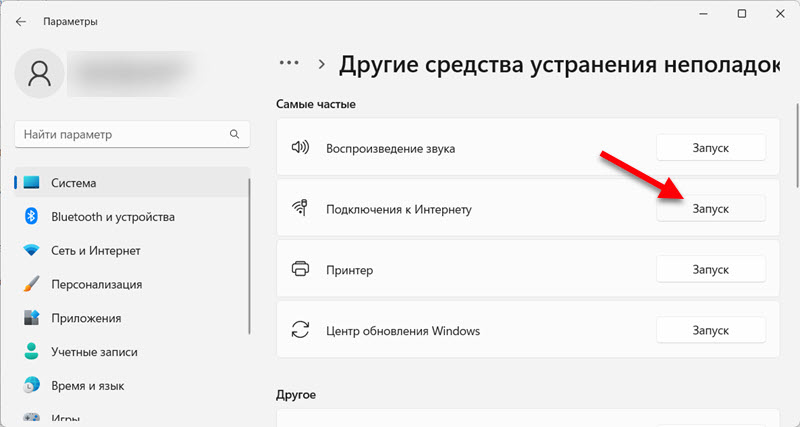 Select an item "Internet Connection Troubleshooting".
Based on the results of the diagnostics, if a problem is found, Windows 11 will either offer to fix it, or simply show an error that you can navigate when looking for solutions.
Additional Information
Based on my personal experience, I can say that errors related to the DNS server in Windows 11 and in other versions of Windows are resolved in most cases by setting up alternative DNS servers. In the article, I showed how to set up DNS servers from Google (8.8.8.8 / 8.8.4.4). Make sure you follow this recommendation correctly. Registered them for active connection.
If you have applied all the solutions from the article, but Windows cannot contact the DNS server, then try to determine on which side the problem is. If you are connected through a router, connect to a different network. Or check if the connection works on other devices from this network.
Also, very often, such problems appear after installing some programs, extensions, games, updates, VPN, etc. Think about what you were doing before this error appeared. If someone else used the computer, ask him. If before this there was an installation of some program, then remove it and reset the network.
Don't forget the comments. There you can always leave your question, or share a solution.